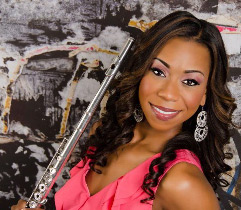 The Birmingham Music Club Guild will hold its annual gala on Saturday, February 1, 2014, at the Vestavia Country Club. The lively fundraiser provides music scholarships that benefit Alabama college students in their undergraduate work. The Guild has raised more than $500,000 over the years for worthy music students.
The Music Guild Scholarship winner of 1993 is this year's honored guest. Kim Scott, Chair of the Alabama School of Fine Arts (ASFA) music department will be recognized and will delight guests with a performance. Scott is a successful jazz flutist whose 2013 CD track "Golden" released as Number One on Billboard Radio's Smooth Jazz chart. Scot is also an ASFA alumna, and has brought several Grammy Award winners to the school to teach master classes. She received the 2013 Outstanding Arts School Alumnus Award from the Arts Schools Network, the nation's largest professional membership organization of specialized arts schools, as well as numerous other local and national honors.
ASFA is a tuition-free, public school for talented Alabama students in grades 7-12. Admission is by audition only in one of six areas of study: Creative Writing, Dance, Math/Science, Music, Theater Arts, and Visual Arts. For more information about the ASFA, please visit the school's website or call 205-252-9241.