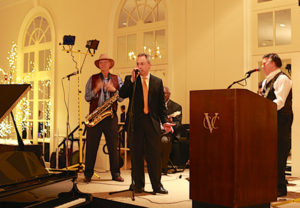 The Guild of the Birmingham Music Club hosted its annual "Rhythm and Muse Gala" on Jan. 30 to benefit its music scholarship program for Alabama college students. Nearly 200 Guild members and guests enjoyed a cocktail-supper, silent auction, music, and dancing. A patron's party hosted by Merrill Lynch kicked off the evening with violinist, Eva Shvartcer, a student at Alabama School of Fine Arts.
Setting the scene in Vestavia Country Club's ballroom was a winter decor with white lights gleaming on bare branches and white cymbidium orchids centering tables for dining. BMC Executive Director Ron Bourdages singing to his guitar accompaniment and backed up by his City Lights band were highlights of the festivities.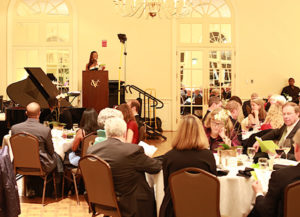 Former Birmingham Music Club Scholarship winner Dawson Hull was introduced by Kim Strickland as the evening's honoree. He drew a standing ovation with his virtuoso piano performance of classical selections. Now pursuing his doctorate in piano at the University of Memphis, he also serves as Associate Pastor of Instrumental Worship Arts at Germantown Baptist Church in Germantown, TN. An established concert pianist, Hull has appeared as a soloist with numerous symphony orchestras and chamber ensembles. He also is a composer whose works have premiered with choirs of Samford and professional chamber ensembles.
Gala Chairman Judy Anderson welcomed guests, and Lochrane Coleman Smith assisted in on-site fundraising. Serving on the Gala committee were BMC Guild President Marsha Drennen, Kay Clark, Martha Ann Doyal, Beverly Parks, Vicki Lukens, Lu Moss, Anne Lamkin, Linda Cooper, Nancy Morrow, Beth Adams, Lesley DeRamus, Pat Grant, Linda Griggs, Angie Holder, Powell Owens, Lochrane Coleman Smith, Kim Strickland, Janis Zeanah, and Miriam Morris.